New research presented at CROI 2021 speaks to the power that gender-affirming health care can have for transgender individuals living with HIV. In a study with trans people living with HIV in New York City who were enrolled in Medicaid, people who had accessed surgery were increasingly more likely to be virally suppressed. Medicaid has covered gender-affirming surgeries since 2015.
The increase in viral suppression, said Cristina Rodriguez-Hart, PhD, MPH, from New York City Department of Health and Mental Hygiene, is likely due to the fact that gender-affirming surgery reduces stigma and other barriers to HIV care. And, surgeries may increase self-care practices, support engagement with the health care system, and allow providers to monitor HIV clinical outcomes.
"When we consider that gender-affirming surgery is associated with better mental health, and good mental health is key to remaining engaged in HIV care and achieving viral suppression, the findings make intuitive sense," Rodriguez-Hart told San Francisco AIDS Foundation. "Affirming someone's identity and their wishes for the types of health care they need is critical to building trusting relationships between providers and their patients. By finding that gender-affirming surgery is associated with high rates of viral suppression and sustained viral suppression, we have another tool to empower transgender people to achieve optimal health."
The study included data from 1,730 trans people living with HIV enrolled in Medicaid who received HIV medical care in New York City between 2013 and 2017. A total of 185 accessed gender-affirming surgery–categorized as top surgery, bottom surgery, both top and bottom surgery, or any other procedure.
According to the study, trans individuals living with HIV enrolled in Medicaid experienced lower rates of viral suppression (75%) than trans people living with HIV not enrolled in Medicaid (83%), cisgender women (82%), and cisgender men (86%). Data from people in the study not enrolled in Medicaid came from 2017 HIV surveillance data.
However, viral suppression rates among trans people enrolled in Medicaid who had accessed gender-affirming surgery were much higher than the entire population of trans individuals living with HIV in Medicaid (85% vs. 75%).
The researchers also looked at viral suppression rates at intervals before and after surgery. Generally, viral suppression tended to increase prior to surgery, which the researchers attributed to providers encouraging or mandating viral suppression as a condition for surgery. Thus, the researchers were particularly interested in whether higher rates of viral suppression were maintained post-surgery.
Among the trans individuals who obtained gender-affirming surgery with Medicaid coverage, viral suppression increased pre-surgery and remained high one year (86%) and two years (88%) post-surgery.
"Although we would expect viral suppression to increase prior to surgery, the maintenance of viral suppression was good news," Rodriguez-Hart said at CROI.
People who received both top and bottom surgeries had the highest rates of viral suppression both pre- and post-surgery. All 20 (100%) individuals who received both top and bottom surgeries were virally suppressed one year after their last surgery; 95% were suppressed two years after their last surgery.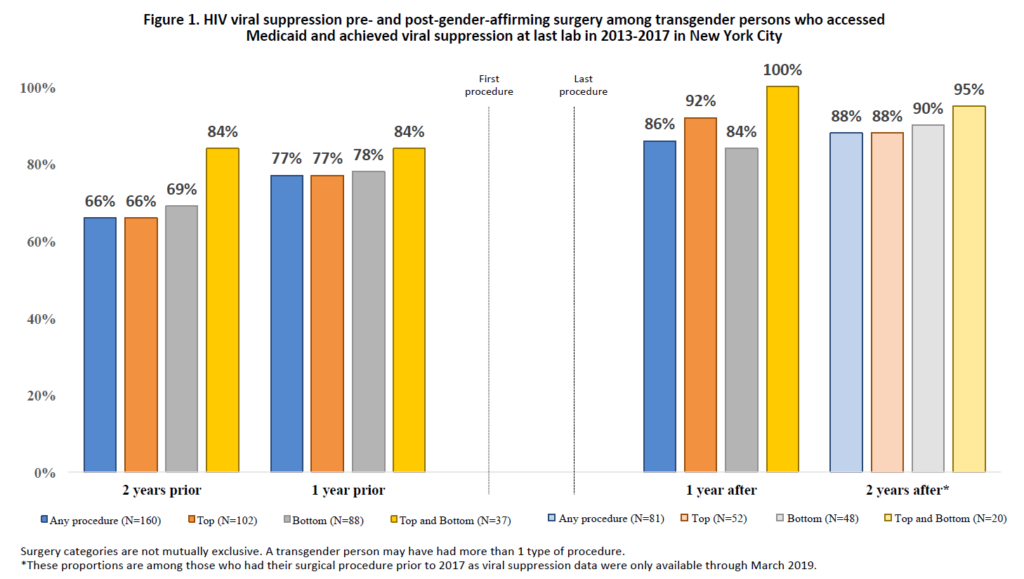 "Little was known before this about the association between viral suppression and surgery. These results suggest that barriers to HIV care may have decreased as a result of obtaining surgery. Obtaining affirming surgery–a process that involves multiple interactions with the health system–may provide greater opportunities for affirmation, positive experiences with providers, and better management of HIV and non-HIV outcomes," said Rodriguez-Hart during the presentation.
This study, in addition to other research showing the mental and physical health benefits that gender-affirming care provides to trans people, reinforces the need for gender-affirming care to be accessible and available to people regardless of their ability to pay.
"For far too long, some insurers, policymakers, and providers have created barriers to accessing gender-affirming health care, resulting in people accessing less safe care or not receiving care at all," Rodriguez-Hart told San Francisco AIDS Foundation. "Having one's outer appearance congruent with who they feel they are inside is not a matter of preference, but rather a life-preserving issue for transgender people. Our research illustrates the importance of establishing clinical best practice and public health policy that are based in science and free of stigma. We hope this research will lead to increased access to comprehensive, affordable gender-affirming care, including gender-affirming surgery, for any transgender person who wants it."
"It's incredibly important for San Francisco AIDS Foundation to provide gender-affirming care for our trans and non-binary community members," said Marion Pellegrini, the nurse practitioner manager at San Francisco AIDS Foundation. "Navigating multiple providers and health systems to get the care one needs creates unnecessary barriers for individuals in achieving health and wellness. For this reason, it is important to have providers that are familiar with, and can integrate both HIV treatment and gender-affirming services in the care they provide. We're able to bring people in to gender-affirming services, and also other sexual health, substance use, and HIV services that our clinic can provide. By providing these services for free this helps create a low-barrier entry point into care "
Reference:
Rodriguez-Hart, C. and colleagues. Gender-affirming surgery associated with high viral suppression among transgender people living with HIV. CROI 2021, Abstract 107.
Originally published by San Francisco AIDS Foundation: Source