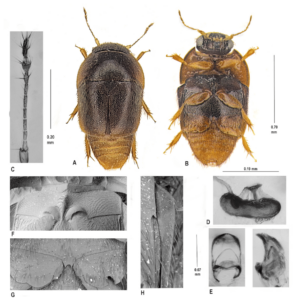 "Paddington Beetle" Phytotelmatrichis osopaddington
At Amazon Conservation's biological stations around Peru, biodiversity extends beyond just mammals and birds. More than 1,000 new species of beetles were believed to be discovered around these areas in a major study conducted a few years ago by lifelong beetle researcher and expert Dr. Caroline Chaboo, along with around with 40 beetle experts from around the world.
The first to be described in that study was discovered at our Villa Carmen Biological Station, located in the Andean foothills. Named Paddington (Phytotelmatrichis osopaddington), in reference to the Spectacled bear from the movie and children's books, Dr. Chaboo had hoped the new beetle will raise awareness about biodiversity and conservation in Peru. Additionally, she has published a series of scientific papers titled "Beetles of Peru"– an extensive project spanning ten years–which identified more than 10,000 different types of beetles. Read Part 1 of her studies here: https://www.researchgate.net/publication/285619523_Beetles_Col.
Originally published Amazon Conservation Association: Source